English Riding boot shopping? No problem we are happy to help. We carry a wide variety of english riding boots, english tall boots, paddock boots, barn and leisure boots and more. Whether you need english show boots or looking for a pair of schooling boots we are happy to help assist with selection and sizing. Please call us with your measurement or send us a quick email: info@theconnectedrider.com so we can help you identify the best boot for you and your activities.
Riding Boots. Show boots, tall boots, English riding boots, paddock boots, equestrian footwear check out our everyday low prices! Also most of our boots ship free!
Your best foot forward.
___
ENGLISH RIDING BOOTS
Quality, fashionable, english riding boots.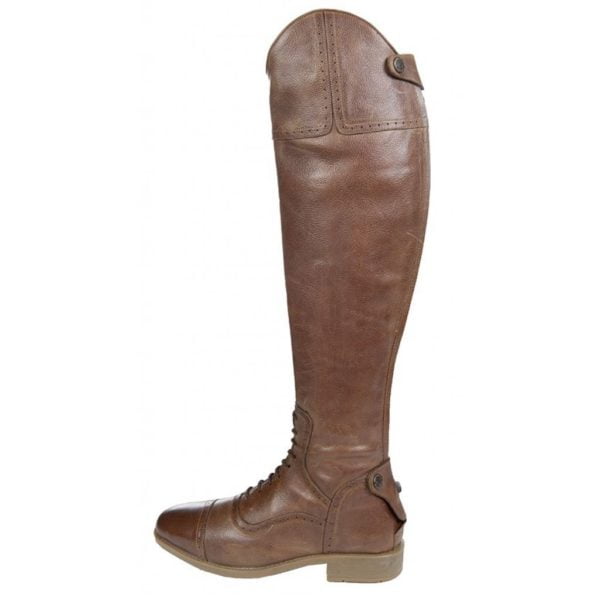 Out of stock

Brown

Brown
---
English riding boots in leather tall boots, paddock boots, muck boots, and leisure boots for around the barn that are both fashionable and functional. When shopping for riding boots make sure to take your measurements before hand and decide what purpose your english riding boots will serve. Will you be needing riding boots for dressage, hunter jumper, or polo? Also consider whether you like a softer leather english riding boot or if you prefer a stiffer leather dressage boot. When picking soles for your english riding boots consider the type of terrain you will be walking on or whether these boots will be soley for riding or if they will serve double duty walking around the barn. English riding boots have different types of soles, rubber, leather, or other synthetics. English boots also come in different calf and height measurements so make sure to take your measurements before choosing an english tall boot. Paddock boots can be worn alone or paired with your favorite half chap. Leisure boots are typically a comfort boot with an increased protection in the toe cap but some boots can serve dual purpose being both a riding boot and leisure boot. Finally when selecting a show boot, consider the discipline in which you are riding. Hunter Jumper riders typically use laced up field boots and dressage riders typically use dress boots however this isn't always the case and can come down to personal preference. Many riders choose to have an english riding boot specifically for showing. So you may want to have a comfortable day to day english riding boot in addition to your show boots.